Inventory / Materials
Stainless, Carbon & Alloy Steel Inventory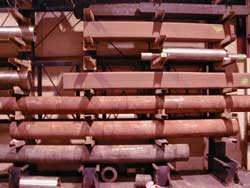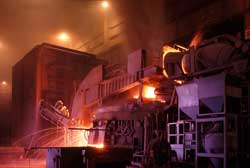 One of our greatest strengths at Great Lakes Forge is our investment in a wide variety of inventory in grades of stainless steel, carbon, and alloy steel that allows us to meet your custom forging deadlines. We have built and maintained good relationships with material steel suppliers to make sure we get competitive pricing, excellent quality, and timely deliveries. Without material, we can't produce your forgings in the shortest lead times in the industry year after year. Listed below are commonly stocked stainless steel, carbon, and alloy steel grades:
Additional steel grades and specifications are available upon request.
Stainless Steel Grades:
Carbon & Alloy Steel Grades:

303
304/304L
347
410
420
440C
A182F51(2205)
A182F6NM
Custom 450 ESR

1030
1045
1117
4130
4140
4150
4340
4340AQ
300M
A105
A182F22
A350LF2
Nitralloy 135MOD
While the steel grades listed above are among the mostly commonly stocked for metal forging projects, we can and often do work with many other forged steel grades. If you have a forging project that demands a specific grade of steel, please don't hesitate to contact us. We may have the steel grade that you need on hand, and if we don't, our close relationships with our steel providers ensures that we may be able to bring in the steel that you require quickly and cost effectively.
Great Lakes Forge has the capability to forge over 200 different materials. We have the stainless steel, carbon steel, and alloy steel inventory to be an excellent source for your metal forging needs.
Contact Great Lakes Forge for your Stainless Steel, Carbon Steel and Alloy Steel needs today
Request a quote on your stainless steel, carbon, and alloy steel today or contact us to learn more.