Custom Open-Die Forgings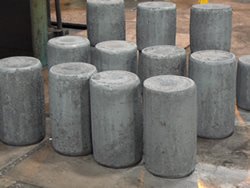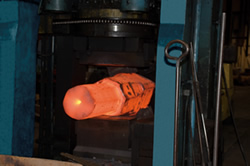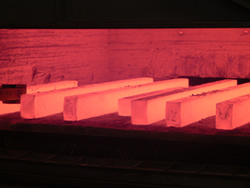 Great Lakes Forge is one of the industry's leading custom open-die forging manufacturers. Our custom open-die forging service can meet your project's requirements with the quickest lead times in the industry. Thanks to our years of experience and superior resources, Great Lakes Forge can deliver your open-die forgings quickly, cost-effectively, and at the highest standards of quality.
Because the material being worked is not confined by impression dies, Great Lakes Forge's custom open-die forging service allows us to progressively work the material into the desired shape. This makes it possible to produce an extremely broad range of product shapes and sizes. The forging process allows the internal grain of the metal to follow the shape of the part, resulting in a forged piece that can be far stronger than a cast or machined part.
Unlike closed-die forging processes, open-die forging allows for nearly unlimited size and shape capabilities. Our facility can produce individual forgings up to 6,000 lbs, and, with our 750-ton Bliss press, we can fabricate products from 2.5" to 24" in diameter and/or thickness, and up to 144" in length. Our custom open-die forging services can create:
Great Lakes Forge offers custom open-die forgings for a variety of metals, including stainless steel, carbon steel, and a variety of alloy steels. Our open-die forging services are ideal for prototypes and short production runs, and our quality controlled heat treatments and in-house testing ensure the finest quality finished product.
Open Die Forging Video
This video of the Great Lakes Forge shop working on a forged rectangle and a forged round gives a look into the craft of open die forging.
Contact Great Lakes Forage today for all of your Custom Open-Die Forging needs
At Great Lakes Forge we have the experience, the resources, and the capabilities to meet or exceed all your custom open-die forging needs. Contact Great Lakes Forge today for more information or to request a quote.