Custom Forged Crankshaft Manufacturer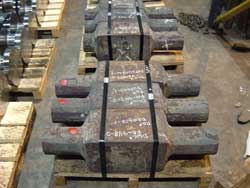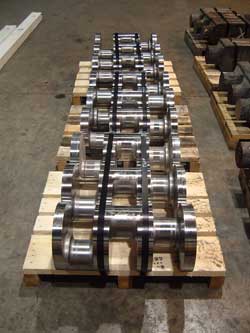 Great Lakes Forge is a manufacturer of custom single, double, and multi throw forged crankshafts as well as eccentric shafts with the best lead times in the industry. We have been a custom forged crankshafts manufacturer for 60+ years and have experience with major suppliers in the mechanical press building, press repairing, oil & natural gas, pumps, and compressor industries.
Our years of custom forging expertise enables us to continue manufacturing custom crankshafts to meet the most exacting specifications, while our extensive steel inventory lets us manufacture your custom steel crankshafts with the shortest lead times in the industry.
We are often called upon by engineers across the country with tight deadlines for custom crankshafts that their regular manufacturers cannot meet, but we can. If you need a custom crankshaft and you can't wait for your normal forging manufacturer's backlog, Contact Us now to request a quote and turnaround.
Forged Crankshaft Advantages
Forged crankshafts, often referred to as forged cranks, provide strength and reliability that far surpass any cast or turned bar stock, making these crankshafts the standard for any use that demands strength, consistency or quality. Our custom forged crankshafts have advantages over rough turned bar stock:
Continuous grain flow
Improved microstructure
Finer grain size
Reduced chance of voids
Greater strength
Better fatigue resistance
Custom Forged Crankshafts for Engines 
As a custom forged crankshafts manufacturer, we use open die forging techniques that allow us to produce forgings up to 3,000 pounds and 100" long.
Custom forged crankshafts are commonly used as specialized parts in heavy industrial applications, like engines, where the crankshafts are subject to extreme forces or pressures. Forged crankshaft strength, longevity, and quality when used in internal combustion engine (ICE) applications is crucial - it's an indicator of the overall performance and life span of the engine. Manufacturers in a number of industries increasingly prefer forged crankshafts over cast crankshafts due to their numerous performance and strength advantages.
Custom Forged Crankshafts
Great Lakes Forge produces custom forged crankshafts in the rough turned condition to save you time and money. If required, we also can supply forged crankshafts finished to your drawings. In our heat treat facility, we can stress relieve, normalize, harden, or temper your custom forged crankshaft to your specific requirements. Find out what our customers already know; that Great Lakes Forge is a fast, experienced, and reliable manufacturer of custom forged crankshafts.
Great Lakes Forge Your Trusted Forged Crankshaft Manufacturer
Request a quote on your Custom Forged Crankshaft today or contact us to learn more.