Forged Stainless Steel Blocks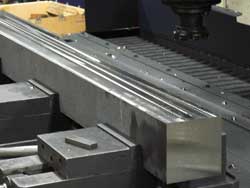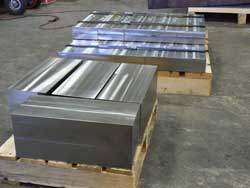 When you're looking for improved properties and better quality than plate or flat bar in stainless steel, look to Great Lakes Forge and our forged stainless steel blocks. When plate is unavailable in the thickness your project requires, or when your supplier is quoting long lead times for stainless steel, forged stainless steel blocks from Great Lakes Forge can be produced quickly in various size configurations.
We inventory many grades of stainless steel in sound center billet from which we forge our stainless steel blocks. Popular stainless steel grades such as 13-8 stainless steel, 15-5 stainless steel, 17-4 stainless steel, 316 and others are readily available, making it easy to find the ideal material to match your project's exact specifications. Click here for a list of our available grades of stainless steel.
Great Lakes Forge's stainless steel blocks are ideal for high pressure applications, highly corrosive environments, and other specialized uses. Our forged stainless steel blocks are used in the oil & gas, aerospace, medical, chemical, and food processing industries, as well as many others.
Because of the constant fluctuation in stainless steel prices, Great Lakes Forge can work with you on blanket orders, to help keep control your costs (down) on repeated stainless steel orders over the span of several months. Blanket orders can be tailored to meet your needs for steel grade, quantity, delivery releases, etc. We also offer a wide variety of additional services to add quality and value to our stainless steel blocks. We offer quench-and-temper heat treating, milling & machining, ultrasonic testing, and mechanical testing to create the best finished product possible.
Great Lakes Forge offers superior quality forged stainless steel blocks with some of the fastest lead times in the industry. Contact us today to request a quote or for more information.