Forged Stainless Steel Blocks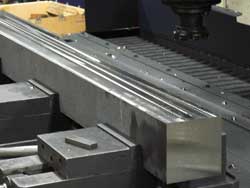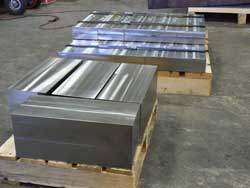 High-pressure forged stainless steel blocks are created through a manufacturing process that involves the shaping of the forged blocks using localized compressive forces. Forged stainless steel blocks are considered a raw supply product, even though they have been extensively worked and refined to improve the properties of the metal. The blocks themselves are not a finished product, instead, they are used by machine shops and product manufacturers to create a finished part.
 When you're looking for improved properties and quality over standard stainless steel plate or flat bar, look to Great Lakes Forge's forged stainless steel blocks. If the plate thickness that your project requires is unavailable, or if your supplier is quoting long lead times for stainless steel, we can produce forged stainless steel blocks in numerous size configurations with short lead times.
 Contact us for more information on the benefits and applicable uses of our forged stainless steel blocks, or call us at 800-748-0271 and one of our expert associates will be happy to assist you. 
Forged Stainless Steel Block Manufacturing Capabilities
 At Great Lakes Forge we inventory many grades of sound center billet material from which we forge our stainless steel blocks. We stock the most popular stainless steel grades such as:
With our wide range of forged stainless steel block options, we make it easy to find the ideal material to match your project's exact specifications. We can manufacture high-pressure forged stainless steel blocks that provide excellent corrosion resistance and a finish that's perfect for several different types of applications. 
Forged Stainless Steel Blocks for High-Pressure Applications
Great Lakes Forge's stainless steel blocks are ideal for high-pressure applications, highly corrosive environments, and other specialized uses. Our forged stainless steel blocks are commonly used in a broad range of industries, including: 
Aerospace
Medical Chemical
Food processing 
Forged Stainless Steel Block Blanket Orders Provide Cost Sustainability
Due to the constant fluctuation in stainless steel prices, Great Lakes Forge can work with you on blanket orders, to help control your costs on repeated stainless steel orders over the span of several months. Blanket orders can be tailored to meet your needs for steel grade, quantity, delivery releases and other controllable aspects of your product resource agenda. 
Forged Stainless Steel Block Advantages
Stainless steel forged blocks are valued for the enhancements they lend parts for performance in high-pressure environments, applications in which corrosion resistance is important, and any application in general that requires greater strength or longer life out of the finished parts. They are also preferred to standard plate or bar steel stock that are delivered directly from the mill due to the inherent advantages that the forging process offers, including greater impact strength.
Some of the additional benefits that high-pressure forged stainless steel blocks can provide include:
Quality controlled heat treating that produces a consistent product
Testing capabilities to ensure quality and adhere to your requirements
Ideal for prototypes and short-run situations
Produce sizes that aren't available in plate or bar stock
Quickest lead times in the industry
Milling capabilities that bring the product closer to size at reasonable costs
Forged Stainless Steel Block Value Added Services 
Great Lakes Forge offers a wide variety of additional services to add quality and value to our stainless steel blocks. Some of the additional services that we can provide to custom tailor your forged stainless steel blocks, include:
Quench-and-temper heat treating
Ultrasonic testing
Mechanical testing
Contact Great Lakes Forge Regarding our Forged Stainless Steel Blocks Today
Great Lakes Forge offers superior quality forged stainless steel blocks with some of the fastest lead times in the industry.
Contact us
today for more information, or 
request a quote
 today for further pricing details.