Custom Metal Forging Services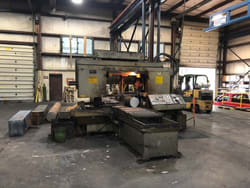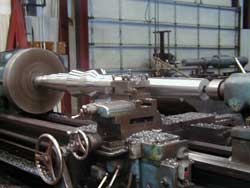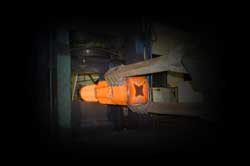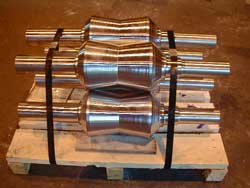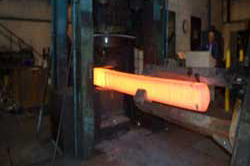 Custom metal forgings are manufactured from the finest materials in existence. Experienced and knowledgeable metal professionals provide custom forging services based on project specifications. With over 60 years of steadfast commitment to the custom forging industry, Great Lakes Forge provides custom metal forging services for all types of industrial applications.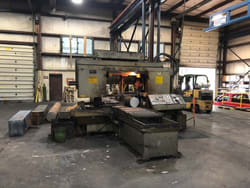 Contact us for more information regarding our custom metal forging services, or give us a call at 800-748-0271, and we'll gladly assist you. Great Lakes Forge is your trusted source for custom forged metal parts, materials, and services.
Start Your Quote
Custom Forged Service Options
Our state-of-the-art forgings processes create unique products, parts, and shapes for all industries and applications. With over six decades of experience, we have the knowledge and expertise to make custom forged parts based on your project's exact specifications.
Open-Die Forgings
Open die forging is the process of forming and shaping metals by hammering, pressing, or rolling. Great Lakes Forge's facility can produce individual forgings up to 4,000 lbs. By utilizing our 750-ton Bliss press, we can fabricate products 3.5" to 18" in diameter and thickness and up to 120" in length. Open-die forgings are ideal for creating:
Stainless Steel Forgings
Forged Stainless Steel enhances and amplifies the existing qualities of stainless steel. Ultimately, the forging process improves the corrosion resistance of stainless steel, permitting the grade to endure and withstand harsh, aggressive, and more extreme environments. Forging materials for stainless steel include:
300 series stainless steel: 303, 304/304L, 316/316L, 317, 321
400 series stainless steel: 410, 420, 440C
Additional stainless steel grades: A182F51 (2205), A182F6NM, custom 450 ESR[H2]
CNC Machining
At Great Lakes Forge, we utilize CNC Machining processes to control a range of complex machinery, from grinders and lathes to mills and routers. We can accommodate round or cylindrical parts up to 18" in diameter. We can turn parts up to 76" long to match the tight tolerances of our customers' designs. We can bore or drill holes up to 18" deep in parts up to 64" in length. CNC machining options include turning, boring, facing, and drilling.
The video below highlights some machining options for your forgings, including milling a forged rectangle, saw cutting bloom, and rough turning of a forged steel shaft.
CNC Milling
CNC mills are very efficient when it comes to conserving materials. A CNC mill generally produces minimal waste materials, which can save on material costs over the machine's lifespan. CNC milling machines create numerous shapes, slots, holes, and other necessary impressions that a standard drill could never achieve. CNC milling advantages include:
A cost-effective approach to producing prototypes & short runs
High dimensional tolerances
Smooth finishes
Near limitless shape possibilities
CNC Turning
At Great Lakes Forge, our highly skilled technicians provide a wide range of CNC Turning services to produce a custom part or component unique to your specifications. CNC turning is used to create the following types of operations:
Facing
Parting
Grooving
Boring
Drilling
Knurling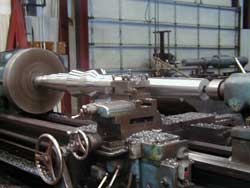 Quick On-Time Deliveries
Great Lakes Forge's open-die forging services can deliver your products with the shortest lead times in the industry. We can produce individual forgings up to 4,000 lbs, up to 18" diameter/thickness, and up to 120" in length, all at the quickest turnaround times in the business.
Start Your Quote
Forging Metal Capabilities
Great Lakes Forge has the ability and capacity to meet your open-die forging needs. Our computer-controlled hydraulic press allows us to produce individual forgings up to 6,000 lbs. We can forge and machine various metals, including:
Forged Stainless Steel
Stainless steel offers several unique qualities that make it highly sought after for all types of industrial applications. Whether your project requires high heat resistance, excellent corrosion resistance, or a protective oxide layer, stainless steel forgings provide many advantageous qualities.
Forged Carbon Steel
Carbon steel forgings provide quality results, whether your project requires increased impact strength, product efficiency, or tight grain structure.
Alloy Steel Forgings
Forged alloy steel is a steel that has had small amounts of one or more alloying elements, other than carbon, added to its overall content. These added elements create specific properties for forgings that are not found in standard carbon steel forgings.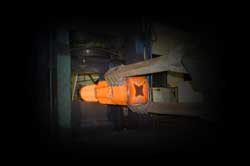 750-Ton Bliss Press for Custom Metal Forgings & Value-Added Services
To maintain consistency and cut down on extra weight while manufacturing your part, our 750-ton Bliss press has been updated with advanced sizing controls. We can produce products up to 120" in length, with diameters and thickness from 3.5" minimum x 18" maximum. Our 750-ton bliss press manufactures forgings in an ISO 9001 (2015) Certified quality-controlled environment to meet top-of-the-line quality expectations. Additional value-added services include:
Fully Equipped Machine Shop
In-House Heat Treating
Mechanical & Non-Destructive Testing
Emergency Shipments
Saw Cutting
Flexible Production Schedule
Attention To Detail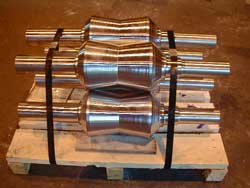 Why Choose Great Lakes Forge for Custom Forging Services?
As a smaller and privately-owned metal open-die forging manufacturer, Great Lakes Forge can be a quality supplier to your company thanks to our:
Flexibility
Shorter Lead Times
Flatline management team
No parent company with mixed agendas
Belief that your business means a lot; you're not just another account
Greater attention to detail
The attitude that "bigger is not always better"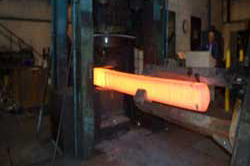 Contact Great Lakes Forge for Custom Metal Forgings Today
Request a quote today or contact us to learn more about the value-added custom metal forging services that we offer. At Great Lakes Forge, we have the resources, along with an experienced workforce, to get your job done right, providing significant time and cost savings.