Forged Rounds, Discs & Sleeves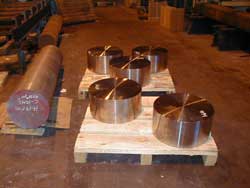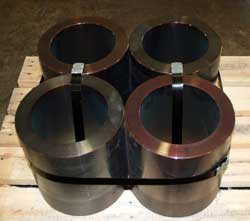 Great Lakes Forge manufactures rounds, discs, and sleeves in stainless, carbon, and alloy steels. These shapes are produced utilizing our state-of-the-art custom computer software, increasing accuracy, ease of replication, and speed of production time, saving you money on production costs. Individually forged rounds and discs with a 3 to 1 minimum reduction can significantly improve the properties of your part while reducing the risk of any voids or imperfections.
Start Your Quote
Discs, Rounds, & Sleeves from Carbon Steel, Stainless Steel, & More
Forged metal discs are made by heating and pressing steel into a mold. While carbon steel is typically the most common material used to forge discs, rounds, and sleeves, these products can be made from many different types of steel, including stainless steel and steel alloys. We use various forging methods when producing rounds, discs, and sleeves, depending on the particular application for which the pieces will be used.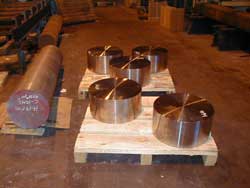 Industrial Uses for Custom Forged Discs, Rounds, & Cylinder Sleeves
Many industries utilize forged steel sleeves, rounds, and discs for industrial applications. They are often used by power generation and power transmission industries in blind flanges, tube sheets, and gears. At Great Lakes Forge, we work with customers in nearly every industrial sector. We provide our customers with the metal resources and custom-forged products required for various industrial applications. Industries we serve include:
Chemical Processing
Electric Motor Manufacturing
Food & Beverage Processing Equipment Manufacturing
Pelletizing & Compacting Equipment Production
Steel Milling
And many more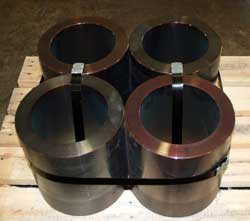 Your Supplier for Forged Sleeves, Rounds, & Discs
At Great Lakes Forge, we provide our customers with the quickest lead times in the industry. Our In-house machine shop capabilities allow us to deliver on-time deliveries, keeping you on track. Our in-house quantity-controlled heat treating allows us to produce high-quality products that meet our customers' requirements. Our testing capabilities ensure that our custom-forged sleeves, rounds, and discs adhere to your specifications.
Start Your Quote
Additional Steel Manufacturing Services from Great Lakes Forge
In addition to our forged discs, rounds, and sleeves, Great Lakes Forge also offers several additional services to provide our customers with top-quality custom steel forgings, including:
Order Custom Forged Cylinder Sleeves, Discs, & Rounds Today
Contact Great Lakes Forge to learn more about our rounds, disks, and sleeves in stainless, carbon, and alloy steels. You can also request a quote today for pricing information and special order options. Great Lakes Forge is here to provide custom-forged steel products that meet all your requirements.