Forged Rounds, Discs & Sleeves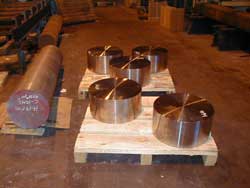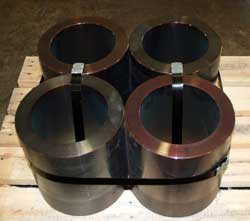 Great Lakes Forge manufactures rounds, discs, and sleeves in stainless, carbon, and alloy steels. These shapes are produced utilizing our state-of-the-art custom computer software which increases accuracy, ease of replication, and speed of production time, thus saving you money on your part. Individually forged rounds and discs with a 3 to 1 minimum reduction can greatly improve the properties of your part thereby reducing the risk of any voids or imperfections.
Some advantages of rounds, discs, and sleeves from Great Lakes Forge are:
Quickest lead times in the industry
In-house quantity controlled heat treating to produce consistent product
Testing capabilities to ensure quality and adhere to your specific requirements
Ideal for prototypes and short run situations
Produce sizes and grades that aren't available in bar stock
Billets are cut to precise weight thus saving on material costs
Contact Great Lakes Forge today
Great Lakes Forge is an excellent source for rounds, disks and sleeves in stainless, carbon and alloy steels. Contact us to learn more or request a quote today.