Custom Forged Blocks, Rectangles & Flats Manufacturer
Forged steel blocks are created through a manufacturing process that involves the shaping of the forged blocks using localized compressive forces. The forging process begins when a block of steel is compressed within a die.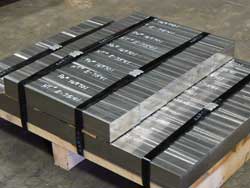 Forged steel blocks are considered a raw supply product, even though they have been extensively worked and refined to improve the properties of the metal. The forged blocks themselves are not a finished product, instead they are used by machine shops and product manufacturers to create a finished part.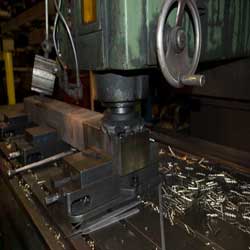 Forged Steel Block Capabilities
As a premier custom forgings manufacturer, Great Lakes Forge produces forged blocks, rectangles, and flats in stainless, carbon and alloy steels. A large portion of our business is dedicated to forged blocks, rectangles and flats. Our customers count on us for quick on-time deliveries of both our forged and milled products, including stainless steel blocks and forged flats.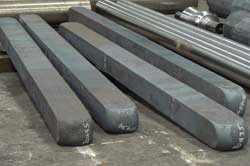 We take immense pride in working closely with our customers who have established repeat size and blanket orders of forged blocks, rectangles and flats. This helps protect them from fluctuating steel costs while maintaining delivery releases. Our customers have found that they enjoy working with a smaller company like Great Lakes Forge, thanks to our increased flexibility over that of larger forging facilities.
Contact us for more information on forged blocks, rectangles & flats, or request a quote today.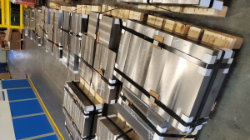 Custom Forged Block, Rectangle & Flat Advantages
Forged steel blocks are often preferred to standard plate or bar steel stock straight from the mill due to the inherent advantages that the forging process offers, including greater impact strength.
Stainless steel forged blocks are valued for the enhancements they lend parts for performance in high-pressure environments, applications in which corrosion resistance is important, and any application in general that requires greater strength or longer life out of the finished parts.
Some advantages of forged blocks, rectangles, and flats from Great Lakes Forge include:
Quickest lead times in the industry
Quality controlled heat treating that produces a consistent product
Testing capabilities to ensure quality and adhere to your requirements
Ideal for prototypes and short run situations
Produce sizes that aren't available in plate or bar stock
Forged Steel Block Options
Since our base stainless steel forged blocks material is better quality than that of bar stock, our customers receive better quality forged steel blocks, rectangles and flats. At Great Lakes Forge we have the inventory and the capabilities to create forged steel blocks with carbon & alloy steels at maximum size capacities including:
• 1045
• 4140
• 4150
• 4340
As a custom forged blocks, rectangles and flats manufacturer we can also create forged steel blocks in smaller sizes in any of the over 100 materials we work with, including multiple grades of stainless steel. Contact us for more information or request a quote on forged steel blocks today!
Additional Steel Forging Services
Great Lakes Forge also offers several additional services to improve the quality and value of our forged steel blocks including:
• Quench-and-Temper Heat Treating
• Rough Turning
• Ultrasonic Testing
• Mechanical Testing
• And More
We have also produced forged steel blocks, rectangles and flats for several industries including:
• Electric Motor Manufacturing
• Food Processing
• Chemical
• Special Machine Building
• Pelletizing & Compacting Equipment
• Steel Mill
• And More
If minimizing downtime is critical, and premature failure is not an option, contact Great Lakes Forge for your company's forged steel block project needs. The benefits of using forged steel blocks compared to standard stock will become immediately apparent. The superior strength of our forged steel blocks makes them ideal for machines and parts that are under high loads or pressures.
Your Trusted Forged Blocks, Rectangles and Flats Manufacturer
Great Lakes Forge is a premium forged blocks manufacturer. Request a quote today or contact us with any questions that you may have.