Custom Forged Steel & Stainless Steel Shaft Manufacturing Services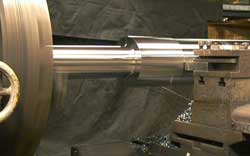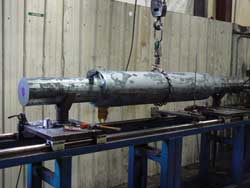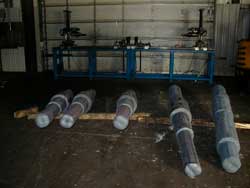 Forged shafts are a critical manufacturing piece in numerous industrial applications. The forged steel process utilizes hammering and press squeezing manufacturing techniques, allowing localized compressive forces to shape the forged metal workpiece to exact project specifications. Whether it's forged stainless steel or steel shafts, crankshafts, or step shafts, our custom shaft manufacturing services provide proven results.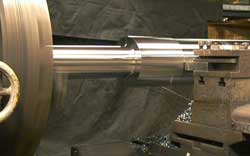 Great Lakes Forge is your custom forged steel and stainless steel shaft manufacturing expert. Our state-of-the-art processes are ideal for all types of shaft manufacturing for any industry and application. With over six decades of experience, we have the knowledge and expertise to create custom forged steel shafts based on your project's exact specifications.
If you have questions regarding our forged steel and stainless steel shaft manufacturing services, please contact us or give us a call at 800-748-0271. Great Lakes Forge is your trusted source for forged shaft manufacturing.
Start Your Quote
Forged Shaft Advantages
Our forged steel shafts are created from sound-center billet, which is superior to bar stock in numerous ways, including:
Increased Strength
Greater Ductility
Better Resistance to Fatigue
Eccentric Shaft & Rotor Shaft Manufacturing Capabilities
Forged steel and stainless steel eccentric shafts and rotor shafts from Great Lakes Forge are guaranteed sound-centered in all types of shapes and dimensions, including round, square, rectangle, polygonal, concentric, or eccentric configurations, and custom shapes.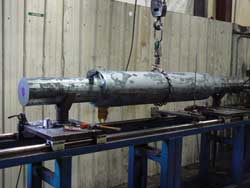 Forged Eccentric Shaft Applications
High-pressure triplex pistons
Plunger pumps
Mud pumps
Fracturing pumps
Turbines
Generators
Mechanical presses
Engines
Compressors
Pumps
Industrial fans
Power generation equipment
Forged Rotor Shaft Applications
Industries Served
Electric Motor Manufacturing
Food Processing
Chemical
Special Machine Building
Pelletizing & Compacting Equipment
Steel Mill
Forged Steel & Stainless Steel Shaft Manufacturing Capabilities Up to 4,000 Pounds
As a premier forged shaft manufacturer, Great Lakes Forge can produce steel shafts weighing up to 4,000 lbs. Our steel and stainless steel lead times are the best in the industry, often two times faster than our larger competitors.
As a smaller forged shaft manufacturer, we have greater flexibility in our production, which helps make our forged steel shaft turnarounds fast. In addition, the quality of our steel far exceeds that of shafts machined from bar stock.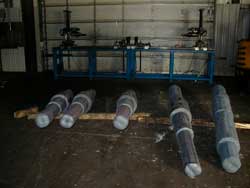 Additional Forged Steel & Stainless Steel Manufacturing Capabilities
If you are in the market for advanced quality forged materials and forged services, look no further than Great Lakes Forge for your custom forging needs. Our custom forged shapes, blocks, flats, rounds, hubs, and more are made to our customer's exact specifications, which allows them to save time and money on unnecessary materials. Our custom forged parts are manufactured from only the finest materials and include the following options:
Additional Steel Forging Services
Minimizing downtime and eliminating premature failure is what separates standard and quality forged shafts. The benefits of using forged steel shafts compared to traditional bar stock are apparent throughout the project's entire scope. The superior strength of our forged steel shafts makes them ideal for machines and parts under high loads or pressures.
Great Lakes Forge also offers several additional services to improve the quality and value of our forged steel shafts, including:
Quench-and-Temper Heat Treating
Rough Turning
Ultrasonic Testing
Mechanical Testing
Contact Great Lakes Forge today 
Great Lakes Forge Provides advanced steel and stainless steel forged shaft manufacturing services for a wide range of industries and applications. Contact us with any questions that you may have regarding our forged steel shafts, or request a quote today.