Forged Steel Shafts Manufacturer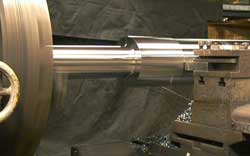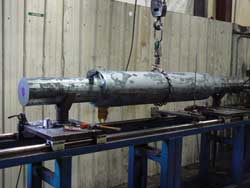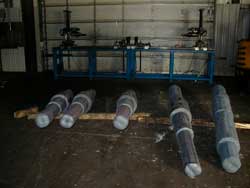 Forged steel shafts are created through a manufacturing process that involves the shaping of the forged shaft using localized compressive forces. The forging process begins when a piece of steel is struck repeatedly with a hammer or squeezed with a press.
Forged Steel Shaft Capabilities
As a premier forged shaft manufacturer Great Lakes Forge can produce forged steel shafts weighing up to 4,000 lbs. Our stainless steel forging lead times are the best in the industry, often 2 times faster than our larger competitors. As a smaller forged shaft manufacturer, we have greater flexibility in our production, which helps make our forged steel shaft turnarounds so fast. In addition, due to forged steel shafts superior characteristics, the quality of forged steel shafts that we create are of far higher quality than shafts machined from bar stock.
Forged Shaft Advantages
Our forged steel shafts are created from sound-center billet which is superior to bar stock in numerous ways including:
Increased Strength
Greater Ductility
Better Resistance to Fatigue
Forged Shaft Steel Options
Since our base stainless steel forgings material is better quality than that of stock, our customers receive better quality forged steel shafts. At Great Lakes Forge we have the inventory and the capabilities to create forged steel shafts with carbon & alloy steels at maximum size capacities including:
As a custom forged shaft manufacturer we can also create forge steel shafts in smaller sizes in any of the over 100 materials we work with, including multiple grades of stainless steel.
Additional Steel Forging Services
Great Lakes Forge also offers several additional services to improve the quality and value of our forged steel shafts including:
Quench-and-Temper Heat Treating
Rough Turning
Ultrasonic Testing
Mechanical Testing
And More
We have also manufactured forged steel shafts for several industries including:
Electric Motor Manufacturing
Food Processing
Chemical
Special Machine Building
Pelletizing & Compacting Equipment
Steel Mill
And More
If minimizing downtime is critical, and premature failure is not an option, contact Great Lakes Forge for your company's forged steel shaft project's needs. The benefits of using forged steel shafts compared to standard bar stock will become immediately apparent. The superior strength of our forged steel shafts makes them ideal for machines and parts that are under high loads or pressures.
Contact Great Lakes Forge today 
Great Lakes Forge is a premium forged shafts manufacturer. Contact us with any questions that you may have regarding our forged steel shafts, or request a quote today.