Stainless Steel Forgings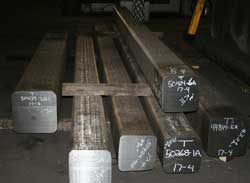 During the manufacturing process of industrial parts, stainless steel is one of the most popular forging materials that are used. Forged stainless steel is commonly used because it combines the strength of steel with superior corrosion and heat resistance. Austenitic stainless steel (300 series) is the most common stainless steel alloy and is used for sanitary applications due to its ease in cleaning and high corrosion resistance. Martensitic (400 series) and duplex stainless steels are stronger and more corrosion-resistant and provide superior resistance to stress cracking and pitting. All stainless steels provide easy machining capabilities.
If you have any questions regarding our stainless steel forging materials contact us, or request a quote for in-depth price analysis.
Forged Stainless Steel Capabilities 
Forged Stainless Steel enhances and amplifies the existing qualities of stainless steel. In essence, the forging process improves the corrosion resistance of stainless steel, permitting the grade to endure and withstand harsh, aggressive and more extreme environments. The stainless steel forgings process also creates a unique and continuous grain flow that follows the stainless steel part unlike other processes such as casting or machining, which helps to provide strength where it's needed most. 
Forged Stainless Steel Advantages 
Stainless steel forgings provide a wide range of benefits for your forged part project requirement needs. Great Lakes Forge creates custom forged stainless steel parts with the following benefits:
Protective Oxide Layer - Stainless steel forgings contain a protective oxide layer that assists in corrosion assistance. These metal forgings resist stress cracking, crevice corrosion, pitting, deformation, and other hazards that could shorten the life span of a forged part.
High Corrosion Resistance - Stainless steel allows for prolonged exposure to corrosive environments such as pumps, valves, chemical and petrochemical processing equipment, and marine equipment.
High Heat Resistance - In situations where it is used for heat exchangers, furnaces and ovens stainless steel maintains extremely high heat resistance qualities.
In addition, stainless steel forgings retain all of the advantages of a forged part - the open die forging process retains the internal grain of the stainless steel, which creates a part that is much stronger than a cast or machined part.
There are also certain disadvantages associated with the use of stainless steel as your material of choice for your forging needs. Some disadvantages associated with stainless steel are its high cost, fabrication handling ability, difficulty in welding, and finishing challenges. 
Stainless Steel Inventory
Great Lakes Forge carries the following standard grades of stainless steel. In addition, we have built solid relationships with our stainless steel suppliers. This allows us to bring in and forge differing grades and specifications as necessitated by your project requirements. 
300 series stainless steel: 303, 304/304L, 316/316L, 317, 321
400 series stainless steel: 410, 420, 440C
Nitronic stainless steel: 50, 60
Additional stainless steel grades: A182F51 (2205), A182F6NM, custom 450 ESR[H2]
Stainless Steel Fluid Ends
Great Lakes Forge provides the highest graded stainless steel fluid ends in the industry. Compared to other companies that use carbon steel for their fluid ends, our stainless steel fluid ends provide nearly twice as much life as carbon steel ends. Once considered an expendable, throw-away item stainless steel fluid ends are more valuable now than ever before. Forged stainless steel fluid ends are less corrosive than carbon steel ends, so they are perfect for industries that continually deal with corrosive fluids.
Contact Great Lakes Forge Today
Stainless steel forgings from Great Lakes Forge are produced from our extensive inventory of raw sound center stainless steel billet. If your company is currently using a forging supplier that quotes long lead times, then turn to Great Lakes Forge for your stainless steel forging needs. Once your order is received we complete your forgings with the shortest lead times in the industry. Besides short lead times, we also offer the greatest customer service in the industry.
Contact us for more information regarding our forged stainless steel, or request a quote today.