304 Stainless Steel Alloy
If you're looking for a material that offers excellent resistance to corrosion and can be used in a wide range of applications, 304 Stainless Steel might be your solution. This stainless steel alloy contains 18% chromium and 8% nickel, providing excellent corrosion resistance. 304 Stainless Steel offers high durability and versatility while offering aesthetic appeal for many applications. Additionally, 304 stainless steel is easy to clean, maintain, and sterilize, making it an ideal material for use in the food, medical, and pharmaceutical industries.
Characteristics of Austenitic 304 Stainless Steel Alloy
Due to its many desirable properties, 304 stainless steel is considered the most versatile and widely used stainless steel alloy. It contains about 18 percent chromium and 8 percent nickel, giving it excellent corrosion resistance from most oxidizing acids. 304 stainless steel is also part of the austenitic family of stainless steels, known for their high levels of toughness and ductility. In addition, 304 stainless steel is more heat-resistant than other types of stainless steel, making it ideal for high-temperature applications.
Features of 304 Stainless Steel at a Glance
It is part of the austenitic family of stainless steels
More resistant to heat than other stainless steel alloys
Excellent strength and durability
Non-magnetic
High resistance to corrosion and oxidation, including acid & alkaline environments
Easy to fabricate, weld, & form, allowing for customization in manufacturing processes
Hygienic & easy to clean, ideal for food processing & medical industries
Recyclable & environmentally friendly, making it a sustainable choice for businesses & industries
How is 304 SS Different from Other Stainless Alloys?
Composition
Stainless Steel alloys are characterized by their composition of materials. 304 stainless steel is an austenitic stainless steel alloy containing 18% chromium and 8% nickel, which is higher than many other stainless steel alloys. It also contains small amounts of carbon, manganese, phosphorus, sulfur, and silicon.
Corrosion Resistance
The high chromium and nickel content in 304 stainless steel makes it more resistant to chemical, acid, and saltwater corrosion than other stainless steel variations like 430 or 440 Stainless Steel. This corrosion resistance makes 304 SS a common choice for applications requiring exposure to harsh environments, including food processing, chemical, and medical industries.
Weldability
Unlike martensitic stainless steel alloys, 304 Stainless Steel has good weldability characteristics. 304 SS can be welded using standard techniques like TIG and MIG welding, making it a popular choice for welding and fabricating applications.
Strength
304 stainless steel has good strength at room and elevated temperatures. It's also resistant to thermal shock and fatigue, making it suitable for high-temperature applications.
What is the Difference Between 304 SS & 304L SS?
304 Stainless Steel and 304L Stainless Steel are nearly identical with one key difference: 304L SS is a low-carbon version of 304. Because 304L SS has a lower carbon level, it does not require post-weld annealing, making it ideal for use in heavy gauge components.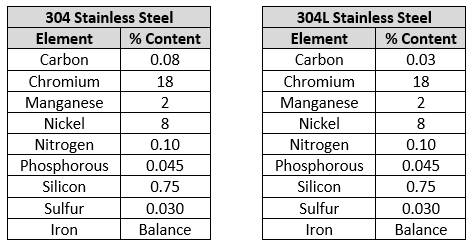 Common Applications for 304 Stainless Steel
Because of its superior properties, 304 Stainless Steel is a popular material choice for many industrial and manufacturing applications. 304 SS is widely used for fasteners and finishing hardware, including screws, nuts, bolts, washers, and more. The high level of corrosion resistance in 304 Stainless Steel makes it a good choice for industrial storage tanks and other applications requiring exposure to corrosive elements.
It's also a popular material for residential appliances and kitchenware, including pots and pans, sinks, refrigerators, and stoves. Because 304 stainless steel has aesthetic appeal due to its clean appearance, it is often used for indoor architectural and decorative hardware, like panels, sculptures, and sconces.
Capabilities for 304 Stainless Steel Forgings at Great Lakes Forge
At Great Lakes Forge, we work extensively with 304 Stainless Steel for a wide range of forgings. Our production capabilities for 304 and 304L Stainless Steel include:
Choose Great Lakes Forge for All Your 304 Stainless Steel Forging Needs
In addition to 304 Stainless Steel, our experts at Great Lakes Forge work with hundreds of materials, creating custom forgings for all industrial applications. Contact us to learn how we can provide you with superior quality forgings with fast turnaround times and on-time deliveries. For all your 304 Stainless Steel custom forging needs, choose Great Lakes Forge.
Start Your Quote