Custom Open-Die Forgings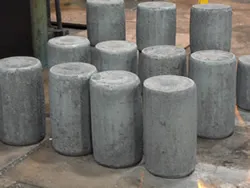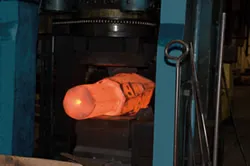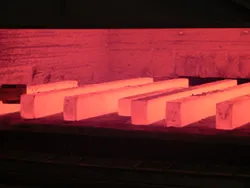 Open die forging is the process of forming and shaping metals by hammering, pressing or rolling. The process begins with starting stock, usually a cast ingot (or a "cogged" billet which has already been forged from a cast ingot), which is heated to its plastic deformation temperature, then upset or "kneaded" between dies to the desired shape and size.
If you have any questions regarding our custom forgings contact us, or request a quote for in-depth price analysis.
The Open Die Forging Process
Within the hot forging process, the cast, coarse grain structure is broken up and replaced by finer grains. Low-density areas, micro shrinkage and gas porosity inherent in the cast metal are consolidated through the reduction of the ingot, achieving sound centers and structural integrity. Mechanical properties are therefore improved through the elimination of the cast structure, enhanced density, and improved homogeneity. Open die forging also provides means for aligning the grain flow to best obtain desired directional strengths. Secondary processing, such as heat treating, can also be used to further refine the part.
Open Die Forgings vs. Closed Die Forgings
A closed die forging confines the metal in dies. In contrast, an open die forging metal is never completely confined or restrained in the dies. Most open die forgings are produced on flat dies. However, round swaging dies, V-dies, mandrels, pins and loose tools are also used depending on the desired part configuration and its size.
Although the open die forging process is often associated with larger, simpler-shaped parts such as bars, blanks, rings, hollows or spindles, it can also be considered a key option for "custom-designed" metal components. High-strength, long-life parts optimized in terms of both mechanical properties and structural integrity are usually produced in sizes that range from a few pounds to hundreds of tons in weight. Contact us for more information.
Open-Die Forging Capabilities
As your premier custom open die forging manufacturer Great Lakes Forge's facility can produce individual forgings up to 4,000 lbs. With the added assistance of our 750-ton Bliss press, we can fabricate products from 2.5" to 24" in diameter and/or thickness, and up to 144" in length. Our custom open die forging services can create:
Custom Open Die Forging Metal Options
As a custom open die forging manufacturer our services are ideal for prototypes and short production runs, while our quality controlled heat treatments and in-house machining ensure your finished product is of the highest quality. Great Lakes Forge offers custom open-die forgings for a variety of metals, including:
In addition, our open die forgings can be produced to specifications for metal alloys including AISI, ASTM, AMS, API, SAE, ASME, AWS, JIS and GB in many custom forged shapes and heat-treated conditions to achieve critical physical properties, such as tensile, yield, elongation and reduction of area for the desired end-use as specified by the purchaser.
Custom Open Die Forging Video
As your custom open die forging manufacturer Great Lakes Forge is proud to provide this video of a forged rectangle and forged round being worked on through open-die forging within our facility.
Contact Great Lakes Forge today for your Custom Open Die Forging needs
At Great Lakes Forge we have the experience, the resources, and the capabilities to meet or exceed all your custom open-die forging needs. Contact Great Lakes Forge today for more information or to request a quote.