Stainless Steel Forgings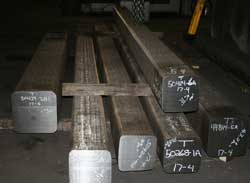 Great Lakes Forge specializes in open die forging, with the experience and expertise to produce the highest quality stainless steel forgings to meet many specifications. Our facility can produce metal forgings from 2.5" to 24" in diameter/thickness and up to 144" long.
Stainless steel forgings from Great Lakes Forge are produced from our extensive inventory of stainless steel sound center billet to complete your forgings with the shortest lead times in the industry. If your regular forging supplier is quoting long lead times, turn to Great Lakes Forge for your stainless steel forgings and take advantage of our unmatched customer service in the forging industry combined with fast turn-around times.
Stainless Steel Inventory
Great Lakes Forge carries the following standard grades of stainless steel. In addition, we have built good relationships with our stainless steel suppliers and are capable of bringing in and forging additional grades and specifications, and metal materials that your project may require.
300 series stainless steel: 303, 304/304L, 316/316L, 317, 321, 347
400 series stainless steel: 410, 420, 440C
Precipitation hardening stainless steel: 13-8 VIM/VAR, 15-5 VAR, 17-4
Nitronic stainless steel: 50, 60
Additional stainless steel grades: A182F51 (2205), A182F6NM, custom 450 ESR
Advantages of Stainless Steel Forgings
Stainless steel forgings contain a protective oxide layer that helps the forgings resist corrosion. These metal forgings resist stress cracking, crevice corrosion, pitting, deformation, and other hazards that could shorten the life span of a forged part.
In addition, stainless steel forgings retain all of the advantages of a forged part — the open die forging process retains the internal grain of the metal (in this case, stainless steel) allowing for a part that is much stronger than a cast or machined part.
Contact Great Lakes Forge today for a quote on your next Stainless Steel Forging project
Contact us for more information or request a quote today.